Online Dental Education Library
Our team of dental specialists and staff strive to improve the overall health of our patients by focusing on preventing, diagnosing and treating conditions associated with your teeth and gums. Please use our dental library to learn more about dental problems and treatments available. If you have questions or need to schedule an appointment, contact us.
Periodontal Disease
When to See a Periodontist
Periodontal treatment may be sought in several ways. Your general dentist or a hygienist may recommend a consultation with a periodontist if they find signs of periodontal disease through the course of a checkup or other dental care appointment. You may also decide to see a periodontist on your own, as a referral is not necessary to be seen at our office.
In fact, if you experience any of these symptoms, we encourage you to schedule an appointment at our office without delay:
Unexplained bleeding while performing regular cleaning or consuming food is the most common sign of a periodontal infection.
Ongoing halitosis (bad breath), which continues despite rigorous oral cleaning, can point to periodontitis, gingivitis or the beginnings of a gum infection.
Longer-looking and loose-feeling teeth can indicate recession of the gums and/or bone loss as a result of periodontal disease.
Patients with heart disease, diabetes, osteopenia or osteoporosis are often diagnosed with correlating periodontal infections. The bacterial infection can spread through the blood stream, affecting other areas of the body.
Bleeding while brushing or eating normal foods
Bad breath
Loose teeth and gum recession
Related health concerns
What is Periodontal Disease?
Periodontal disease is a chronic infection of the periodontal or gum tissue. This infection is caused by the presence of a bacterial film, which is called dental plaque, that forms on the teeth surfaces. Bacteria that found in dental plaque produce toxins which irritate the gums. They may cause them to turn red, swell and bleed easily. If this irritation is prolonged, the gums separate from the teeth, causing pockets (spaces) to form. Plaque can also harden into a rough, porous substance known as calculus (or tartar). This can occur both above and below the gum line.
As periodontal diseases progress, the supporting gum tissue and bone that holds teeth in place deteriorate. If left untreated, this leads to tooth loss. With periodontal disease, bleeding, redness and swelling do not have to be present. Further, pain is usually not associated with periodontal disease. This disease damages the teeth, gum and jawbone of more than 80% of Americans by age 45. Each case is looked at individually, because in addition to plaque there are co-factors such as genetics, smoking, and overall health, which contribute to disease severity. Once periodontal disease is detected, our goal as therapists is to provide information and treatment necessary to control/ or arrest the active infection, and help keep the disease in an inactive or controlled state.
However, don't be fooled!
With periodontal disease, bleeding, redness and swelling do not have to be present. The periodontal disease symptoms of inflammation may only be evident with sub gingival probing. Further, pain is usually not associated with periodontal disease.
When dental emergencies and pain occur, our attention is often focused on diseases and injuries related to the teeth. However, it's important to remember that the soft tissues of the mouth — the gums, tongue, lips and cheek lining — may also be affected. While they are tough enough to stand up to the oral environment, these tissues can be damaged by accidental bites, falls, sports injuries, and scalding liquids. They may also suffer injury from foreign bodies that become lodged below the gum line, and they can develop painful and potentially serious abscesses.
First Aid for Soft Tissues
Soft tissue injuries in the mouth don't usually bleed excessively — although blood mixing with saliva may make any bleeding appear worse than it actually is. To assist someone with this type of injury, you should first try to rinse the mouth with a dilute salt water solution. If a wound is visible, it can be cleaned with mild soap and water; if that isn't possible, try to remove any foreign material by hand, and rinse again.
Bleeding can usually be controlled by pressing damp gauze (or, if unavailable, another clean material) directly to the site of the injury, and keeping it there for 10-15 minutes. If the bleeding doesn't stop, immediate medical attention will be needed. Try to see a dentist within 6 hours of the injury for evaluation and treatment. This usually involves determining the extent of the damage, performing initial restorative procedures, and occasionally suturing (stitching) the wound. An antibiotic and/or tetanus shot may also be given.
Foreign Bodies
Occasionally, foreign objects may become lodged in the space between teeth and gums, causing irritation and the potential for infection. There are a few foods (such as popcorn husks) that seem especially prone to doing this, but other items placed in the mouth — like wood splinters from toothpicks or bits of fingernail, for example — can cause this problem as well.
If you feel something stuck under the gum, you can try using dental floss to remove it: Gently work the floss up and down below the gum line to try and dislodge the object. Light pressure from a toothpick may also help work it free — but avoid pressing too hard or pushing the object in deeper. If that doesn't work, see a dentist as soon as possible. Special tools may be needed to find and remove the object, and you may be given medication to prevent infection.
Periodontal (Gum) Abscesses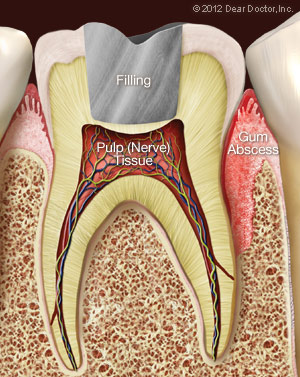 Sometimes called a gum boil, a periodontal abscess is a pus-filled sac that may form between teeth and gums. It is caused by an infection, which may have come from food or other objects trapped beneath the gum line, or from uncontrolled periodontal disease. Because pressure builds up quickly inside them, abscesses are generally quite painful. Symptoms may include a throbbing toothache which comes on suddenly, tenderness and swelling of the gums or face, and sometimes fever. Occasionally, pus draining into the mouth through an opening in the sac relieves the pressure and pain, but may cause a strange taste.
If left untreated, abscesses can persist for months and cause serious health problems, including infections that spread to other parts of the body. That's why it is important to see a dentist right away if you experience symptoms. He or she will find the location of the abscess and treat it appropriately. Treatment usually involves draining the pus and fluid, thoroughly cleaning the affected area, and controlling the infection.
Related Articles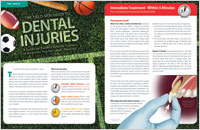 The Field-Side Guide to Dental Injuries Accidents to the teeth, jaws and mouth can happen at any time during any sporting activity. Proper attention can save pain, alleviate anxiety and costly dental treatment. A little knowledge, as they say, can go along way. This field-side guide briefly explains some simple rules to follow when dealing with different dental injuries and when you need to see the dentist... Read Article