Online Dental Education Library
Our team of dental specialists and staff strive to improve the overall health of our patients by focusing on preventing, diagnosing and treating conditions associated with your teeth and gums. Please use our dental library to learn more about dental problems and treatments available. If you have questions or need to schedule an appointment, contact us.
Periodontal Disease
When to See a Periodontist
Periodontal treatment may be sought in several ways. Your general dentist or a hygienist may recommend a consultation with a periodontist if they find signs of periodontal disease through the course of a checkup or other dental care appointment. You may also decide to see a periodontist on your own, as a referral is not necessary to be seen at our office.
In fact, if you experience any of these symptoms, we encourage you to schedule an appointment at our office without delay:
Unexplained bleeding while performing regular cleaning or consuming food is the most common sign of a periodontal infection.
Ongoing halitosis (bad breath), which continues despite rigorous oral cleaning, can point to periodontitis, gingivitis or the beginnings of a gum infection.
Longer-looking and loose-feeling teeth can indicate recession of the gums and/or bone loss as a result of periodontal disease.
Patients with heart disease, diabetes, osteopenia or osteoporosis are often diagnosed with correlating periodontal infections. The bacterial infection can spread through the blood stream, affecting other areas of the body.
Bleeding while brushing or eating normal foods
Bad breath
Loose teeth and gum recession
Related health concerns
What is Periodontal Disease?
Periodontal disease is a chronic infection of the periodontal or gum tissue. This infection is caused by the presence of a bacterial film, which is called dental plaque, that forms on the teeth surfaces. Bacteria that found in dental plaque produce toxins which irritate the gums. They may cause them to turn red, swell and bleed easily. If this irritation is prolonged, the gums separate from the teeth, causing pockets (spaces) to form. Plaque can also harden into a rough, porous substance known as calculus (or tartar). This can occur both above and below the gum line.
As periodontal diseases progress, the supporting gum tissue and bone that holds teeth in place deteriorate. If left untreated, this leads to tooth loss. With periodontal disease, bleeding, redness and swelling do not have to be present. Further, pain is usually not associated with periodontal disease. This disease damages the teeth, gum and jawbone of more than 80% of Americans by age 45. Each case is looked at individually, because in addition to plaque there are co-factors such as genetics, smoking, and overall health, which contribute to disease severity. Once periodontal disease is detected, our goal as therapists is to provide information and treatment necessary to control/ or arrest the active infection, and help keep the disease in an inactive or controlled state.
However, don't be fooled!
With periodontal disease, bleeding, redness and swelling do not have to be present. The periodontal disease symptoms of inflammation may only be evident with sub gingival probing. Further, pain is usually not associated with periodontal disease.
Your first appointment is an exciting time! It's a chance for you to learn about the treatments and services that can help give you the best smile possible. It all starts with the initial consultation.
You should plan to spend at least an hour at the first visit. That's to ensure that no one has to rush, and that you get plenty of time to ask any questions you may have. You will meet one of the receptionists or patient coordinators, who will take some information from you and bring you through the office. Then it's time for some diagnostic work and an exam.
Making a Plan
A big part of the first visit is to determine what treatment is necessary to correct any problems found — and whether to begin now, or wait until a later time. The procedure starts by taking a set of regular photographs of the teeth in their present state. Next, a series of radiographic (X-ray) images will be taken. These show what's going on underneath the gums: the position and growth of bones and joints, and the teeth that are still below the gum line.
In some cases, an impression (mold) of the teeth is also taken to create an exact replica of the bite. This helps reveal exactly what the problem is and how best to treat it. The impression is made by biting down on some soft putty-like material for a few moments; then it's removed.
After that, it's time for the exam. Besides looking in the mouth, we you may be asked questions, such as whether the jaws make noise when the mouth is opening or closing, or if there are any problems chewing or swallowing. Taken together, this information will yield a proper diagnosis so a treatment plan can be finalized at the first visit.
Discussing Your Treatment Options
Following the exam, you may be told that things are just fine — or, treatment may be recommended. It might begin right away or at a later time, depending on the developmental stage of the teeth and jaws. Many times, you'll be advised to return for periodic checkups until it's time to start.
Whether you're starting now or later, the first visit is the best time to ask questions about the process. Topics to discuss include treatment choices, what to expect at the different stages of the process, and any of the following:
Can orthodontic treatment benefit me (or my child)?
What general procedures will be used to correct the problem?
Are any options available (or recommended) for my treatment?
Should I get treatment now, or is it better to wait?
Will tooth extraction be necessary?
How much does treatment cost? Are payment plans available?
How long do you expect treatment should take?
When you leave the office, you should have a better understanding of how you can get the best possible smile.
Related Articles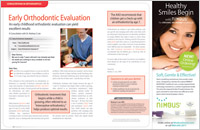 Early Orthodontic Evaluation Early detection of orthodontic problems in young children may make it easier to correct those problems in the long run. Waiting until all of the permanent (adult) teeth have come in, or until facial growth is nearly complete, may make correction of some problems more difficult or even impossible. An early childhood orthodontic evaluation can yield excellent results... Read Article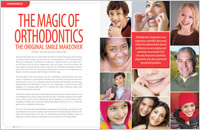 The Magic of Orthodontics Proper alignment of the teeth is basic to "Smile Design." Their position dictates how they work together and affects the way you look and smile. Only orthodontic treatment can move teeth into the right position. Simply put, when things look right, they probably are right. Learn the basics of smile analysis and design and whether the magic of orthodontics will work for you... Read Article