Online Dental Education Library
Our team of dental specialists and staff strive to improve the overall health of our patients by focusing on preventing, diagnosing and treating conditions associated with your teeth and gums. Please use our dental library to learn more about dental problems and treatments available. If you have questions or need to schedule an appointment, contact us.
Periodontal Disease
When to See a Periodontist
Periodontal treatment may be sought in several ways. Your general dentist or a hygienist may recommend a consultation with a periodontist if they find signs of periodontal disease through the course of a checkup or other dental care appointment. You may also decide to see a periodontist on your own, as a referral is not necessary to be seen at our office.
In fact, if you experience any of these symptoms, we encourage you to schedule an appointment at our office without delay:
Unexplained bleeding while performing regular cleaning or consuming food is the most common sign of a periodontal infection.
Ongoing halitosis (bad breath), which continues despite rigorous oral cleaning, can point to periodontitis, gingivitis or the beginnings of a gum infection.
Longer-looking and loose-feeling teeth can indicate recession of the gums and/or bone loss as a result of periodontal disease.
Patients with heart disease, diabetes, osteopenia or osteoporosis are often diagnosed with correlating periodontal infections. The bacterial infection can spread through the blood stream, affecting other areas of the body.
Bleeding while brushing or eating normal foods
Bad breath
Loose teeth and gum recession
Related health concerns
What is Periodontal Disease?
Periodontal disease is a chronic infection of the periodontal or gum tissue. This infection is caused by the presence of a bacterial film, which is called dental plaque, that forms on the teeth surfaces. Bacteria that found in dental plaque produce toxins which irritate the gums. They may cause them to turn red, swell and bleed easily. If this irritation is prolonged, the gums separate from the teeth, causing pockets (spaces) to form. Plaque can also harden into a rough, porous substance known as calculus (or tartar). This can occur both above and below the gum line.
As periodontal diseases progress, the supporting gum tissue and bone that holds teeth in place deteriorate. If left untreated, this leads to tooth loss. With periodontal disease, bleeding, redness and swelling do not have to be present. Further, pain is usually not associated with periodontal disease. This disease damages the teeth, gum and jawbone of more than 80% of Americans by age 45. Each case is looked at individually, because in addition to plaque there are co-factors such as genetics, smoking, and overall health, which contribute to disease severity. Once periodontal disease is detected, our goal as therapists is to provide information and treatment necessary to control/ or arrest the active infection, and help keep the disease in an inactive or controlled state.
However, don't be fooled!
With periodontal disease, bleeding, redness and swelling do not have to be present. The periodontal disease symptoms of inflammation may only be evident with sub gingival probing. Further, pain is usually not associated with periodontal disease.
When advanced gum disease (periodontitis) develops, your teeth are in danger: At this stage, the ligaments and bone tissue that surround them are being destroyed, and you could even begin losing teeth! If the disease can't be controlled by non-surgical treatments like cleaning and scaling, then periodontal flap surgery may be your best treatment option.
Flap surgery is today's leading method for treating and repairing periodontal pockets. What are these "pockets?" They are areas below the gum line where gum tissue has detached from the teeth, resulting in an uncleansable space where harmful bacteria can proliferate. These bacteria cause inflammation of the tissues, resulting in sensitivity, bleeding, and pain. Left untreated, they can cause a host of problems including gum disease, loss of the tooth-supporting bone structure, and possibly even systemic (whole-body) problems.
When periodontal pockets develop, the first step in treating them is usually via cleaning and scaling (also referred to as root debridement) with a manual or ultrasonic instrument. If this isn't effective, then periodontal surgery is considered. Flap surgery isn't a cure for periodontal disease — but it helps create an environment that makes it easier to maintain your periodontal health. And even if you're prone to gum disease, proper professional treatment and regular care at home can help keep your teeth healthy for as long as possible.
The Goals of Flap Surgery
One major objective of flap surgery is to eliminate or reduce the pocket itself. To access it, a flap-like incision is made in the gum tissue. This allows diseased tissue to be removed from inside the pocket, and provides access to the teeth's root surfaces for a thorough cleaning, which helps to eliminate harmful plaque and calculus (tartar). Afterward, the "flap" is closed, sealing the area. This begins the healing process, which takes place rapidly.
Another goal is the regeneration of periodontal ligament and bone tissue which may have been lost to the disease. A variety of techniques may be used to accomplish this, including high-tech methods of bone grafting and chemicals referred to as growth factors. These approaches help restore the gums to their normal form and function, and promote the healthy and secure anchoring of teeth.
The Flap Surgery Procedure
Flap surgery is typically done under local anesthesia, sometimes accompanied by oral anti-anxiety medications; alternatively, it may be performed under intravenous conscious sedation. After anesthesia has taken effect, a small incision is made to separate the gums from the teeth. The outer gum tissue is gently folded back to give access to the roots and the supporting ligament and bone tissue.
Next, the inflamed gum tissue can be removed, and the tooth roots can be cleaned; if needed, the area may also be treated with antibiotics or other medications. Bone defects can be repaired with grafting material, and proper regeneration of the periodontal ligament can be encouraged by physical (barrier membranes) and chemical (growth factors) methods. Finally, the incision is closed and the procedure is completed.
Performed by an experienced hand, state-of-the-art flap surgery has an excellent track record and offers well-established benefits. It's often the treatment of choice for relieving periodontal disease and helping to maintain your oral health — and preserve your teeth.
Related Articles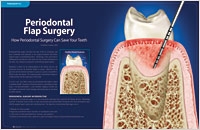 Periodontal Flap Surgery Most surgical patients are surprised by how comfortable the experience of flap surgery is and how painless it is afterward. Today's highly sophisticated and meticulous techniques allow the periodontal surgeon to reconstitute, regenerate, and reconstruct lost and destroyed tissues. Find out how periodontal surgery can prolong the life of your teeth... Read Article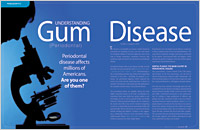 Understanding Gum (Periodontal) Disease Have your gums ever bled when you brushed or flossed? This most commonly overlooked simple sign may be the start of a silent progressive disease leading to tooth loss. Learn what you can do to prevent this problem and keep your teeth for life... Read Article