Online Dental Education Library
Our team of dental specialists and staff strive to improve the overall health of our patients by focusing on preventing, diagnosing and treating conditions associated with your teeth and gums. Please use our dental library to learn more about dental problems and treatments available. If you have questions or need to schedule an appointment, contact us.
Periodontal Disease
When to See a Periodontist
Periodontal treatment may be sought in several ways. Your general dentist or a hygienist may recommend a consultation with a periodontist if they find signs of periodontal disease through the course of a checkup or other dental care appointment. You may also decide to see a periodontist on your own, as a referral is not necessary to be seen at our office.
In fact, if you experience any of these symptoms, we encourage you to schedule an appointment at our office without delay:
Unexplained bleeding while performing regular cleaning or consuming food is the most common sign of a periodontal infection.
Ongoing halitosis (bad breath), which continues despite rigorous oral cleaning, can point to periodontitis, gingivitis or the beginnings of a gum infection.
Longer-looking and loose-feeling teeth can indicate recession of the gums and/or bone loss as a result of periodontal disease.
Patients with heart disease, diabetes, osteopenia or osteoporosis are often diagnosed with correlating periodontal infections. The bacterial infection can spread through the blood stream, affecting other areas of the body.
Bleeding while brushing or eating normal foods
Bad breath
Loose teeth and gum recession
Related health concerns
What is Periodontal Disease?
Periodontal disease is a chronic infection of the periodontal or gum tissue. This infection is caused by the presence of a bacterial film, which is called dental plaque, that forms on the teeth surfaces. Bacteria that found in dental plaque produce toxins which irritate the gums. They may cause them to turn red, swell and bleed easily. If this irritation is prolonged, the gums separate from the teeth, causing pockets (spaces) to form. Plaque can also harden into a rough, porous substance known as calculus (or tartar). This can occur both above and below the gum line.
As periodontal diseases progress, the supporting gum tissue and bone that holds teeth in place deteriorate. If left untreated, this leads to tooth loss. With periodontal disease, bleeding, redness and swelling do not have to be present. Further, pain is usually not associated with periodontal disease. This disease damages the teeth, gum and jawbone of more than 80% of Americans by age 45. Each case is looked at individually, because in addition to plaque there are co-factors such as genetics, smoking, and overall health, which contribute to disease severity. Once periodontal disease is detected, our goal as therapists is to provide information and treatment necessary to control/ or arrest the active infection, and help keep the disease in an inactive or controlled state.
However, don't be fooled!
With periodontal disease, bleeding, redness and swelling do not have to be present. The periodontal disease symptoms of inflammation may only be evident with sub gingival probing. Further, pain is usually not associated with periodontal disease.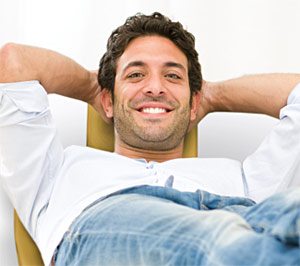 Some people fail to receive the benefits of modern dental treatment because of a simple yet seemingly overwhelming problem: Fear. It isn't uncommon to have a little anxiety about an upcoming dental procedure. But if your fears have kept you away from the dental office when you know you really should go — take heart! Conscious sedation with nitrous oxide can help you lose that anxiety, and make the whole experience so stress-free that you may not even remember it when it's over.
Nitrous oxide, a colorless gas with a slightly sweet odor, has been used in medicine for about a century; however its outdated nickname, "laughing gas," is undeserved. It's a safe and effective method of administering conscious sedation — which means that you'll stay awake during the procedure. But when nitrous oxide is used in combination with a local anesthetic, you won't feel pain or anxiety. In fact, many patients report a feeling of well-being during this type of sedation. All bodily functions remain normal during the administration of nitrous oxide, and its effects wear off quickly afterwards.
How Is Nitrous Oxide Administered?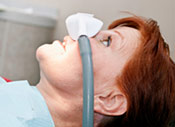 As a form of conscious sedation, nitrous oxide is inhaled through a small mask that fits comfortably over your nose. The gas is mixed with oxygen as it is being delivered, and both gases are always kept at a level that is safe for the body. In just a few minutes, you may start to experience a floating sensation, and perhaps some tingling in the hands and feet. That's a sign that the sedation is working. Once it has been verified that you're calm and comfortable, and that the dose is correct, your dental procedure can begin.
Nitrous oxide itself isn't a substitute for a local anesthetic — it's considered an anxiolytic, which means it makes anxiety disappear. For some procedures, you may still need an anesthetic injection. The difference is, you won't mind. Yet, you won't be asleep — you'll be able to speak, be aware of what's going on, and you will remain in control during the procedure. In fact, the dose can be fine-tuned to just the level of sedation you need.
When the procedure is over, the flow of nitrous oxide is decreased to zero, and the oxygen may be increased. After resting in the chair for a few minutes, you'll be able to sit up, and soon you can resume normal activities like driving. Although the experience has been compared to "having a couple of drinks," there is very little "hangover" effect afterward.
Who Can Benefit From Nitrous Oxide?
Most people whose anxiety would otherwise keep them out of the dental chair can benefit from conscious sedation with nitrous oxide. Before beginning treatment, we will take a complete medical history, including your use of both prescription and non-prescription medications. If you are pregnant, have COPD (Chronic Obstructive Pulmonary Disease) or some other pulmonary diseases, or are taking certain drugs, it may not be right for you. However, if you feel that you would benefit from a more stress-free experience in the dental office, ask about nitrous oxide conscious sedation.
Related Articles