Online Dental Education Library
Our team of dental specialists and staff strive to improve the overall health of our patients by focusing on preventing, diagnosing and treating conditions associated with your teeth and gums. Please use our dental library to learn more about dental problems and treatments available. If you have questions or need to schedule an appointment, contact us.
Periodontal Disease
When to See a Periodontist
Periodontal treatment may be sought in several ways. Your general dentist or a hygienist may recommend a consultation with a periodontist if they find signs of periodontal disease through the course of a checkup or other dental care appointment. You may also decide to see a periodontist on your own, as a referral is not necessary to be seen at our office.
In fact, if you experience any of these symptoms, we encourage you to schedule an appointment at our office without delay:
Unexplained bleeding while performing regular cleaning or consuming food is the most common sign of a periodontal infection.
Ongoing halitosis (bad breath), which continues despite rigorous oral cleaning, can point to periodontitis, gingivitis or the beginnings of a gum infection.
Longer-looking and loose-feeling teeth can indicate recession of the gums and/or bone loss as a result of periodontal disease.
Patients with heart disease, diabetes, osteopenia or osteoporosis are often diagnosed with correlating periodontal infections. The bacterial infection can spread through the blood stream, affecting other areas of the body.
Bleeding while brushing or eating normal foods
Bad breath
Loose teeth and gum recession
Related health concerns
What is Periodontal Disease?
Periodontal disease is a chronic infection of the periodontal or gum tissue. This infection is caused by the presence of a bacterial film, which is called dental plaque, that forms on the teeth surfaces. Bacteria that found in dental plaque produce toxins which irritate the gums. They may cause them to turn red, swell and bleed easily. If this irritation is prolonged, the gums separate from the teeth, causing pockets (spaces) to form. Plaque can also harden into a rough, porous substance known as calculus (or tartar). This can occur both above and below the gum line.
As periodontal diseases progress, the supporting gum tissue and bone that holds teeth in place deteriorate. If left untreated, this leads to tooth loss. With periodontal disease, bleeding, redness and swelling do not have to be present. Further, pain is usually not associated with periodontal disease. This disease damages the teeth, gum and jawbone of more than 80% of Americans by age 45. Each case is looked at individually, because in addition to plaque there are co-factors such as genetics, smoking, and overall health, which contribute to disease severity. Once periodontal disease is detected, our goal as therapists is to provide information and treatment necessary to control/ or arrest the active infection, and help keep the disease in an inactive or controlled state.
However, don't be fooled!
With periodontal disease, bleeding, redness and swelling do not have to be present. The periodontal disease symptoms of inflammation may only be evident with sub gingival probing. Further, pain is usually not associated with periodontal disease.
When you experience pain in your mouth, it's sometimes abundantly clear which tooth is causing it. At other times, the sensation of discomfort is more diffuse, generalized or hard to pinpoint. On occasion, it can even be challenging to determine exactly what problem or combination of problems is causing the symptoms you're experiencing. This may be the case when an infection exists in the root canals of a tooth as well as the gum tissue adjacent to it.
In this situation, the infection may have begun in the pulp of the tooth itself; or, it may have started in the gums. Over time, it has spread from one location to the other — and now it's causing a confusing set of symptoms that are difficult to sort out. Regardless of where the problem started, a thorough analysis will be necessary before treatment can begin, to give you the best chance of saving the tooth.
Confusing Symptoms
From time to time, many people experience oral discomfort that's dull or intermittent. Occasionally, a more insistent pain may be triggered by a stimulus like temperature (from hot or cold foods or beverages) or pressure (from biting down on something). Sometimes, it may feel as though the ache is coming from a group of teeth rather than one single tooth — or even from the sinus area above the back teeth.
These symptoms can indicate a number of dental issues, including root canal and gum problems, and shouldn't be disregarded. However, if you manage to ignore the acute pain, in many cases it will fade in time. But this isn't good news: It generally means that the infected tissue in the pulp of your tooth has died, and the nerve is no longer functioning. That's when the problem may become more serious.
Chicken or Egg?
When the pulp tissue inside your tooth becomes severely infected, it's possible for the disease to move through openings at the end (apex) of the root, and outside of the tooth. It can then spread to the periodontal ligament, which anchors the tooth to the surrounding bone and gum tissue. From there, the infection may extend to the gum tissue and cause periodontal disease, or even result in a painful gum abscess. At that point, you may have pain — even severe pain that will let you know exactly which tooth is affected.
But it's also possible for the infection to be spread by the exact opposite pathway. In this case, an infection that originated in the gums (commonly due to periodontal disease caused by a buildup of plaque) may have has traveled through small passageways called accessory canals, which are located in between a tooth's roots, or on the sides of the roots. The infection can then extend into the tooth's pulp. If your teeth are fractured, it's even easier for disease to spread.
Treatment Methods
When dental problems involves both root canals and gum disease, saving the affected tooth can prove challenging. This is when it matters where the infection started: If it's primarily a root-canal problem that later moved into the gums, the outlook for the tooth is reasonably positive if it receives immediate treatment. If gum disease came first, however, the prospects often aren't as good; by the time the infection has moved into the tooth, it's possible that much bone has already been lost, making the tooth's long-term prognosis poor.
In either case, the cause of the tooth pain will need to be diagnosed and an effective treatment plan developed. The sooner that happens, the better: Root canal and gum problems simply don't get better on their own.
Related Articles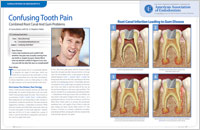 Confusing Tooth Pain It is occasionally difficult to pinpoint the origin of tooth pain, which can result from an infection of the tooth itself, or of the gum, or even spread from one to the other. Nevertheless, it's always important to sort out what's going on so that the right treatment can be selected and the tooth saved... Read Article